September 2, 2016

Star Trek Mission New York Opens in NYC
by Byron Crystal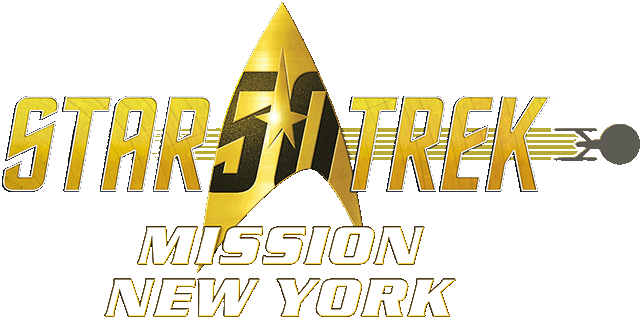 Star Trek: Mission New York opens today at the Javits Center in New York City today. Celebrating the 50th anniversary of the original TV series, the convention takes place from Friday through Sunday, and offers a wealth of fandom fun for everyone new fans, as well as those who have been interested in Trek for half a century now.

Star Trek first aired on CBS on September 6th, 1966 and the United States Postal Service marked the upcoming 50th anniversary of that day with a first-day-of-issue ceremony of a series of new Star Trek Forever stamps at the convention, joined by . The stamps, under license by CBS Consumer Products, showcase four digital illustrations inspired by classic elements of the television program:
The Starship Enterprise inside the outline of a Starfleet insignia against a gold background;
The silhouette of a crewman in a transporter against a red background;
The silhouette of the Enterprise from above against a green background; and,
The Enterprise inside the outline of the Vulcan salute (Spock's iconic hand gesture) against a blue background.

Attendees can purchase the new stamp sheets at the USPS booth on the show floor, where Star Trek fans can also browse offerings of Star Trek merchandise from a multitude of licensees, including various items that are exclusive to the show. There is also an official show store, with convention exclusive apparel and a variety of other items to commemorate the weekend.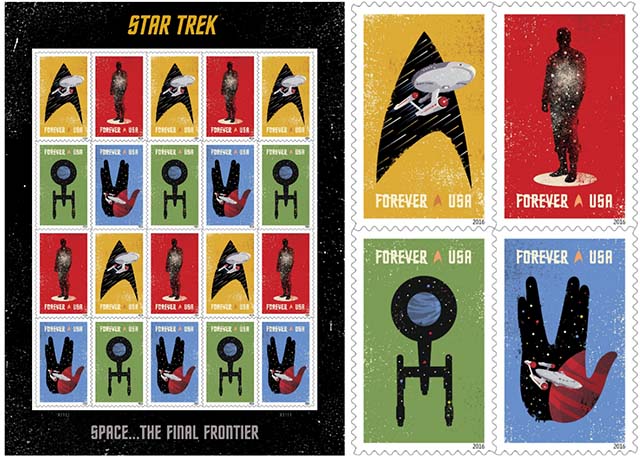 The show floor also features props and replicas from the TV shows and films. There is a full schedule of exclusive screenings, celebrity guests, and panels featuring creators and film stars, all detailed at www.startrekmissions.com .

Tickets are still available for all days of the convention and can be purchased online or at the door.