September 2, 2016

Star Trek Mission New York: Hallmark Booth Offers Ornament Exclusives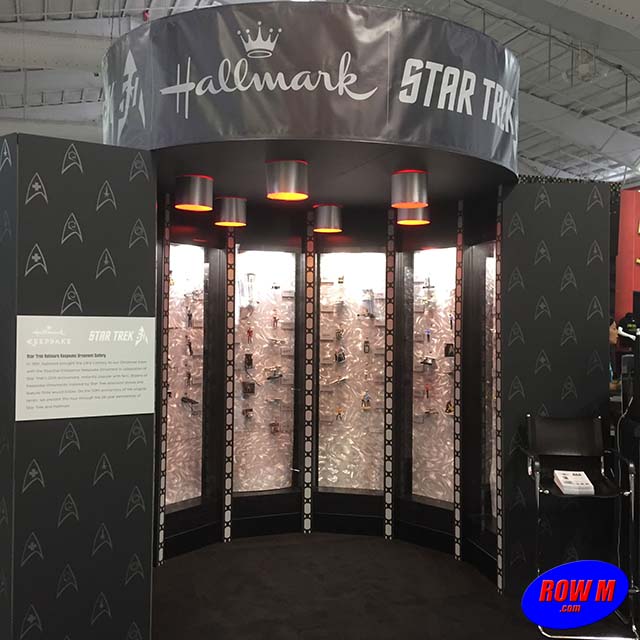 Star Trek Mission New York is underway at the Javits Convention Center in New York City this weekend. Among the licensees celebrating the 50th anniversary of Star Trek with exclusive merchandise at the show is Hallmark. With a Star Trek-themed booth and ornament exhibit created specially for this show, Hallmark once again provides a unique and fun convention experience, while also delivering cool, exclusive items that only attendees at the show can purchase.

The Hallmark booth sports a transporter pad motif, with the interior walls of the pad lined with display cases that feature a complete collection of all the Star Trek themed ornaments Hallmark has produced in the modern-day life of their license over the last 25 years. Quietly, while 2016 marks the 50th anniversary of Star Trek, Hallmark has been doing officially licensed Star Trek ornaments for fully half that long history, with this year marking the 25th anniversary of Hallmark offering Star Trek ornaments.

When Hallmark began doing convention exclusive ornaments in 2009, they created an immediate craze among collectors of Star Trek, Star Wars, and Hallmark in general. The first year's exclusive Star Trek ornament, the yellow dress repaint of Lieutenant Uhura instantly became the most rare and expensive convention exclusive ornament on the secondary market after its only sale at San Diego Comic Con, with current prices hovering around $1,000 for the low-run exclusive of only 450 pieces. For Star Trek Mission New York, Hallmark is selling two 2016 convention exclusive ornaments. The U.S.S. Enterprise (pilot version) 50th anniversary edition ornament features push-button activated sound of Captain Kirk's monologue and music from the opening credits of the original Star Trek TV series. 450 of the total 3,450 run will be available at the convention, with only 150 for sale each morning at the booth. The rest were divided between sales at San Diego Comic Con in July and the upcoming New York Comic Con in October. But while the number of ornaments for sale each day may seem low, this opportunity to buy them seems by far the easiest to navigate for Star Trek fans, compared to the massive crowds that descend upon the Hallmark booth each morning both at SDCC and NYCC. The second Trek Exclusive is Maxine, the character from Hallmark's popular "Crabby Road" cartoons, dressed in her finest Star Trek cosplay, consisting of a blue science/medical bathrobe with original series-style badge, and convention coffee mug and shopping bag, wearing her iconic bunny slippers. This ornament is a repainted version of one available this year in stores selling Hallmark-branded ornaments.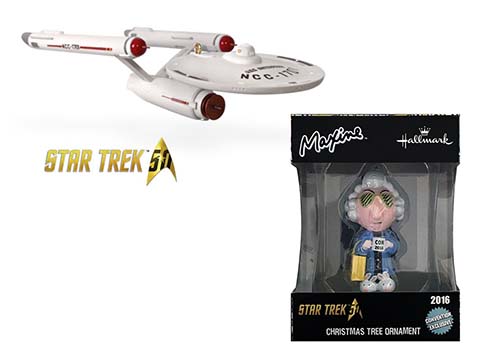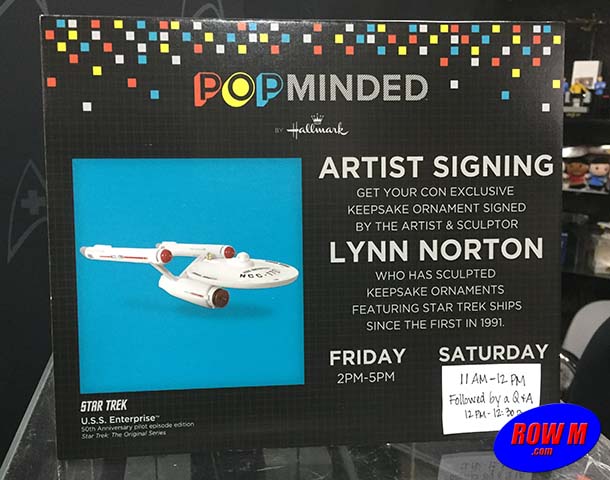 Also special at Star Trek Mission New York is the appearance of Artist and Sculptor Lynn Norton on Friday and Saturday. He'll be appearing at the booth and signing the exclusive ornament for collectors, as well as doing a Q & A about his 25 years of work on Hallmark Star Trek Ornaments. But equally nifty and less well-documented is the free giveaway Star Trek-themed Hallmark button that employees will be handing out all weekend while daily supplies last each day. Hallmark fans that attend conventions regularly have become accustomed to the delightful free gift of a unique button from Hallmark, and the buttons have themselves become sought-after collectibles. This weekend, a Star Trek-themed button not available anywhere else is being given away to attendees, featuring the 50th anniversary golden Enterprise ornament on a deep blue background.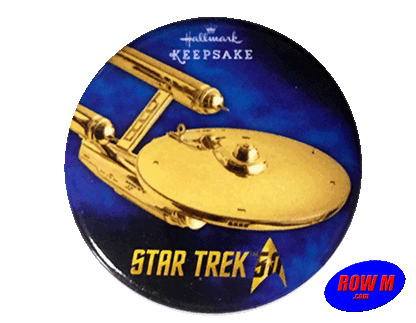 Star Trek Mission NYC is underway through Sunday and tickets are still available at the door at the Javits Convention Center in New York City.
---

Star Trek Mission New York Opens in NYC
by Byron Crystal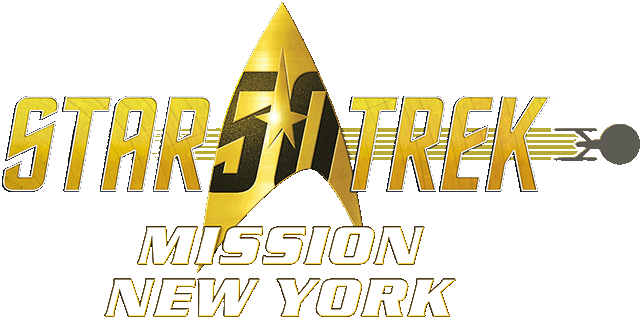 Star Trek: Mission New York opens today at the Javits Center in New York City today. Celebrating the 50th anniversary of the original TV series, the convention takes place from Friday through Sunday, and offers a wealth of fandom fun for everyone new fans, as well as those who have been interested in Trek for half a century now.

Star Trek first aired on CBS on September 6th, 1966 and the United States Postal Service marked the upcoming 50th anniversary of that day with a first-day-of-issue ceremony of a series of new Star Trek Forever stamps at the convention, joined by . The stamps, under license by CBS Consumer Products, showcase four digital illustrations inspired by classic elements of the television program:
The Starship Enterprise inside the outline of a Starfleet insignia against a gold background;
The silhouette of a crewman in a transporter against a red background;
The silhouette of the Enterprise from above against a green background; and,
The Enterprise inside the outline of the Vulcan salute (Spock's iconic hand gesture) against a blue background.

Attendees can purchase the new stamp sheets at the USPS booth on the show floor, where Star Trek fans can also browse offerings of Star Trek merchandise from a multitude of licensees, including various items that are exclusive to the show. There is also an official show store, with convention exclusive apparel and a variety of other items to commemorate the weekend.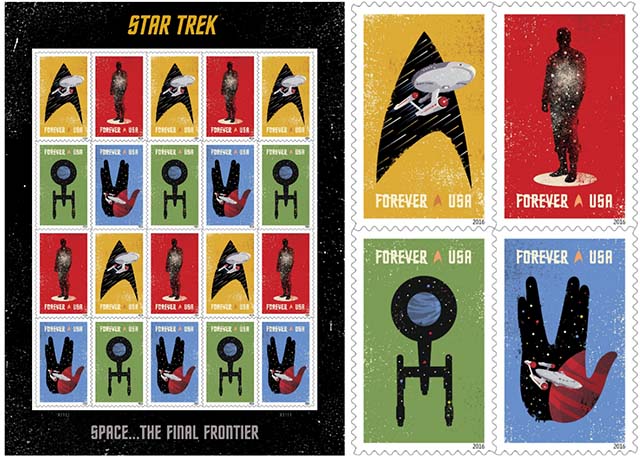 The show floor also features props and replicas from the TV shows and films. There is a full schedule of exclusive screenings, celebrity guests, and panels featuring creators and film stars, all detailed at www.startrekmissions.com .

Tickets are still available for all days of the convention and can be purchased online or at the door.