February 17, 2017

Hasbro Reveals Transformers Generations Titans Return Trypticon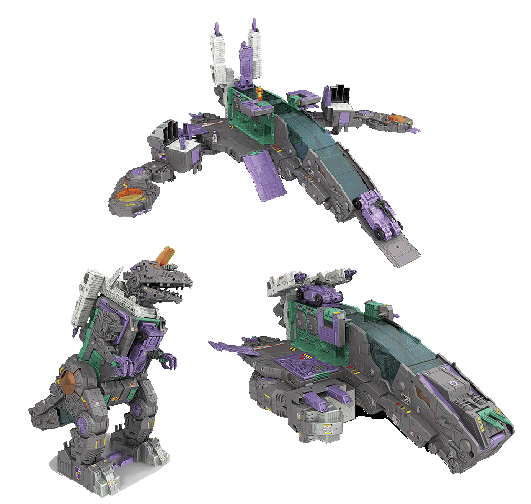 Hasbro has revealed the next Generations Titans Return Titan Class toy. Trypticon is the winning selection from an online vote conducted in late 2015.

Originally touted for 2016, the Trypticon figure will be coming in the fall of 2017. It is the largest figure in the 2017 Titans Return universe and is also the biggest Decepticon figure ever made. It converts between three different modes: dino, spaceship, and city.

This description was provided by Hasbro:

TRANSFORMERS GENERATIONS TITANS RETURN TRYPTICON Action Figure
(Ages 8 & up/Approx. Retail Price: $149.99/Available: Fall 2017)

The TRANSFORMERS battle explodes into uncharted territory when the TITANS RETURN! To control an ancient race of giant, city-sized warriors—TITANS—the AUTOBOTS and DECEPTICONS must harness the power of TITAN MASTERS, smaller bots that give bigger bots enhanced abilities in battle. The ultimate Decepticon weapon is joining the Titans Return battle! Trypticon will destroy everything and devour everyone in his path. The Titan Class Trypticon figure is the largest figure in the 2017 Titans Return universe and is also the biggest Decepticon figure ever made. The towering T-Rex converts between 3 different modes: dino, spaceship, and city. When the figure is in city mode, it connects to Titans Return Leader Class figures (each sold separately) to form the giant Nemesis Command. When the figure is in T-Rex mode, it can "eat" Titan Master figures: Trypticon can chomp them down, then you can open his stomach to get them out. Comes with a Deluxe Class Full-Tilt figure and a Titan Master Decepticon Necro figure. Additional Titan Master figures are each sold separately, but with so many to collect, the Titans Return battlefield is a veritable all-you-can-eat bot buffet for Trypticon. Full-Tilt figure attaches to the Trypticon figure's chest. Titan Master figure becomes the head for the Full-Tilt figure and works with all Titans Return Deluxe, Voyager, and Leader Class figures (each sold separately). Also features a storage compartment in the figure's tail.

Dino Mode: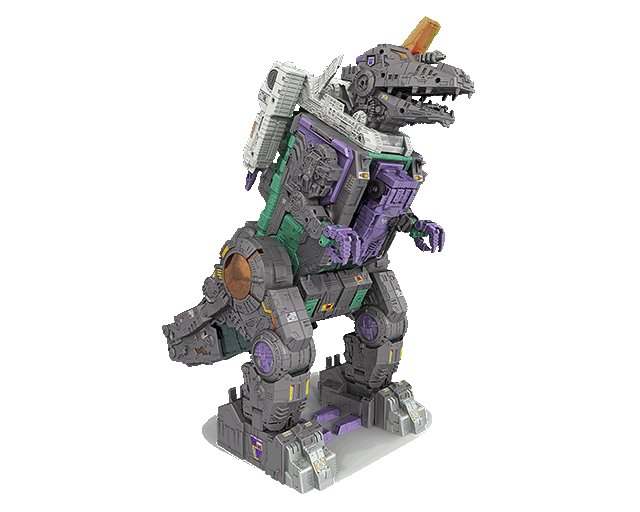 Spaceship Mode: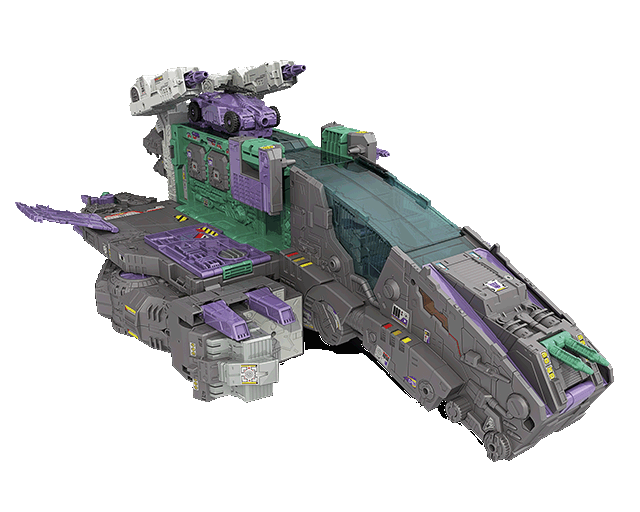 City Mode: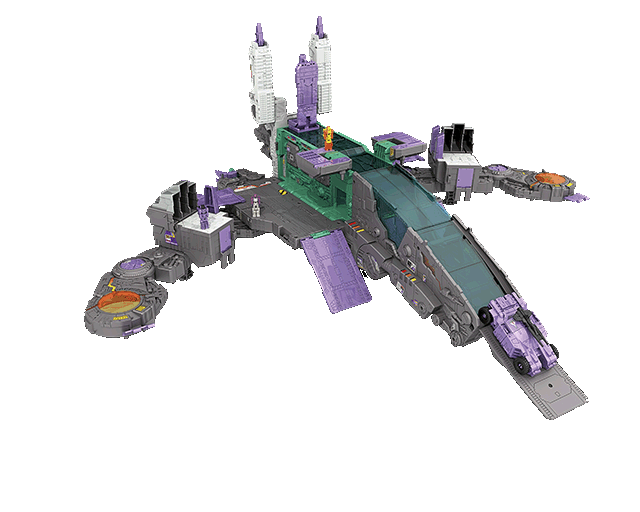 Look for more Transformers reveals throughout this weekend, as Toy Fair International gets underway in New York City tomorrow.
February 16, 2017

New Product Packaging Line Look revealed for Star Wars: The Last Jedi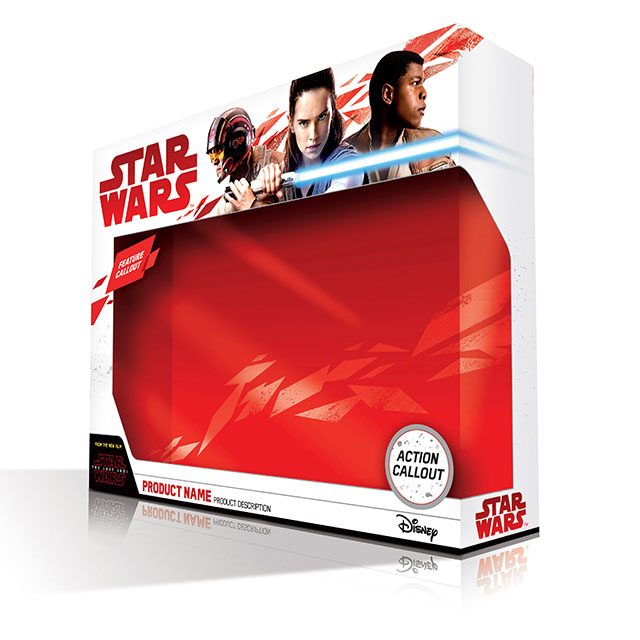 Today's announcement of Force Friday II by Disney and Lucasfilm also included the reveal of the new 2017-2018 line look for packaging of new Star Wars products based on Star Wars: The Last Jedi. The latest incarnation of the packaging motif for Star Wars items features Poe Dameron, Rey and Finn in what may be new likenesses from the new film. But apart from a slightly different hairdo for Rey, there's nothing markedly new on display in the image. It's unlikely that much explanation will be furnished about the likenesses prior to Force Friday II this September, or perhaps even longer. So, there's no telling whether or not the trio of heroes will look quite like this for much of the new film. But then again, maybe this is it. The Star Wars speculation will surely continue until and still after the new packaging begins to appear on September 1, 2017.

Across the web, photoshopped re-orientations of the new line look image released today have been crafted as fans try to pick any shred of new information from the new image of the Sequel Trilogy heroes.
---

Force Friday II Announced for Star Wars: The Last Jedi

Start the countdown once again: Disney and Lucasfilm have officially announced Star Wars Force Friday II, upon which all the new merchandise surrounding "Star Wars: The Last Jedi" will be released in stores worldwide, in a global event for fans. New products from toys, collectibles, books, apparel and more based on the new film will go on sale beginning at 12:01 a.m. on Friday, September 1, 2017, with stores around the world firing the now annual starting pistol on another season of Star Wars excitement leading up to a new sequel film.

In today's press release, Jimmy Pitaro, Chairman of Disney Consumer Products and Interactive Media said "We're excited to confirm that Star Wars Force Friday is back for 'The Last Jedi'. Plans for this year's world-wide event are top secret but expect something befitting the excitement around the next episode of the Star Wars saga."

Jill Wilfert, Vice President of global licensing and entertainment from The LEGO Group was quoted, "It was so much fun to be a part of Star Wars Force Friday, and we can't wait for fans to join this year's celebration as we reveal new 'Star Wars: The Last Jedi' products during Force Friday II – a global event that will connect fans and families, and allow them to build, create and share their experiences with others."

Hasbro's Samantha Lomow, Senior Vice President at Hasbro added "Toys play a unique role in the Star Wars universe, and we're proud to have been part of that incredible legacy for the past forty years. The new line for 'The Last Jedi' is our most innovative yet, and we're excited to unveil it on Force Friday II".

In 2015, Force Friday was preceded by a global live-streamed unboxing event that rolled across the world over 18 hours, in 15 different cities and 12 countries, tallying up millions of views on YouTube. Fans were driven to social media, creating nearly 3 billion Twitter impressions about the events, under #ForceFriday.

Disney stated that "details of how fans can participate will be revealed closer to the event but the world-wide launch will tap new technology and Star Wars mythology to create a unique experience for fans. Just like 2015, products for "The Last Jedi" will be kept under wraps until Force Friday II to preserve surprises for fans. As well as introducing new characters from the movie in toy form, the line will build on the success of products like Sphero's BB-8, introducing more innovative technology to bring the characters and stories from the film to life in unique ways."

While this is all very exciting news, the pattern that is emerging suggests that we'll see very little new Star Wars product this weekend at Toy Fair International in New York. Hasbro has become very conservative with what they show at the New York City trade show each February since Star Wars films have shifted release dates to wintertime, starting with "The Force Awakens" in 2015, and again with "Rogue One" in 2016. LEGO has been a bit more prolific with what new products they display at Toy Fair in the sequel era. But they do hold back from revealing anything as yet unseen from each new film so far in advance as February nowadays. So, expect to see the newness come up in measured doses throughout the year at the various conventions like Star Wars Celebration in April, San Diego Comic Con in July, and then again at New York Comic Con in October, which is after Force Friday II when licensees will have much more freedom to display their new items.