February 24, 2005
Row M Has Scene It All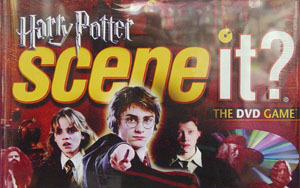 When Row M visited the Screenlife booth at this year's Toy Fair, we were treated to much more than just a preview of the Harry Potter Scene It? board game, due for release on September 1 at a suggested price of $39.99. Due to the generosity of Warner Bros., Screenlife was able to show three props from the Harry Potter films: Hedwig's cage, the sign from the Quality Quidditch Supplies shop, and the flying Ford Anglia. Unsurprisingly, the latter was by far the biggest draw, with convention-goers stopping for pictures next to the famous, beaten-up turquoise car. Row M's staff photographers documented nearly every inch of the props, in addition to capturing screenshots and box art for the game.
As with other games in the Scene It? series, the Harry Potter version asks players to answer DVD-based trivia questions, name actors, and identify locations from movie stills as quickly as possible. Sample questions we encountered included "How many players are on a Quidditch team?" (seven) and set-identification for Honeydukes (from assorted photos of the vivid mint-and-white candy shop) and Diagon Alley (from pictures of owls, Quidditch supplies, and the Ollivander's storefront). Each correctly-answered question allows a player to advance around the game board. The questions are specific, but not so difficult that casual fans can't answer them, while the game's speed-oriented nature makes for exciting gameplay between the most studious movie-watchers.
The final version of Harry Potter Scene It? will include questions and scenes from all four Harry Potter films, although the demo we played only covered the first three movies. The game's September 1 release will give fans a glimpse of Goblet of Fire almost three months before the film's release which, while common in other movie properties, is a first for the Harry Potter franchise. Row M will be receiving a copy of the game for review, so check back during the summer to find out exactly how much of the film is revealed.
In the meantime, view our gallery below for images of the game, its packaging, and detailed photos of the Ford Anglia and other props which were on display.
Update: The box art featured in our gallery is strictly a preliminary version, as the game's release is still over six months away. The art will probably change again before the game hits store shelves, and will likely be updated to use Goblet of Fire pictures of the entire trio.
Also, the game will be released as a full version, not an expansion pack.