News
August 2014
August 18, 2014

Star Wars Rebels Short Film, "Art Attack" Online Now

The Official Star Wars site, www.starwars.com, has updated with a new Rebels short film, "Art Attack". The special short gives us a glimpse of Sabine and her method of dealing with Stormtroopers and love of tagging TIE Fighters with graffiti.

Enjoy a glimpse of her colorfully decorated Mandalorian costume and bit of the bumbling nature of the conscripted Stormtroopers we knew from Original Trilogy, to which we'll be reintroduced once the series begins this fall on Disney XD.
August 14, 2014

Star Wars Celebration Anaheim Pin Trading Program
by Byron Crystal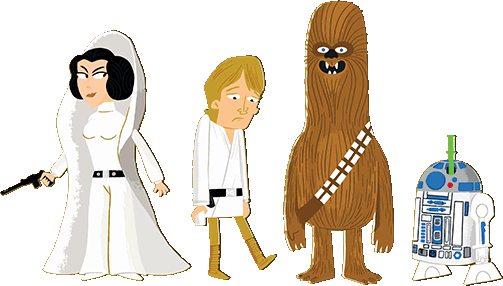 Is there ever really a boring time for Star Wars any more? Even with the Prequel Trilogy over for nine years, it's been nothing like those dark times between 1987 and 1994 when there was truly nothing going on for Star Wars fans. Today, with a new film trilogy beginning in a year, we have an animated TV series coming to tide us over, and a seventh Star Wars Celebration on the horizon in April of next year. But if even that few months is too far away to wait, fans headed to the next of the epic and seminal Star Wars gatherings that each Star Wars Celebration has been can start some of the fun now with the Star Wars Celebration Pin Trading Program.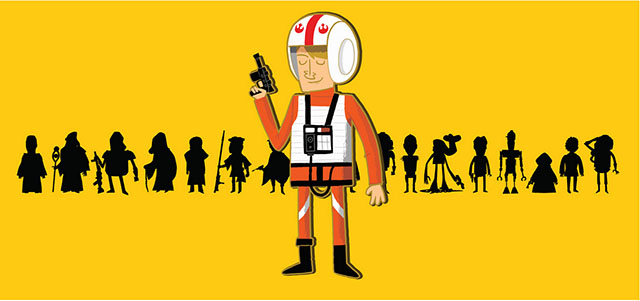 The Star Wars Celebration Anaheim Pin Trading Collection will feature a total of 45 unique character pins, designed by artist Christopher Lee. These designs were featured in Lee's "Star Wars - Action Figure Compendium Poster", prints of which were available for purchase from the artist's website in 2013, now sold out. "This poster pays tribute to Star Wars and the iconic Kenner card back from the 80's. This one in particular is the "92 card back" which covered the entire basic figure assortment. While Yak Face was never included in the lineup, I threw him in there for good measure.", Lee has said.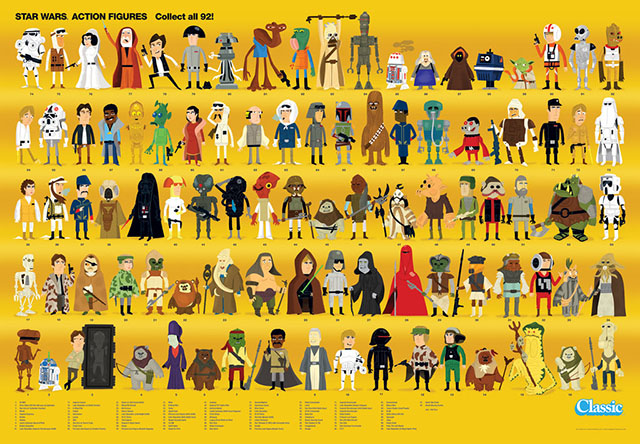 Some pins will be available for sale or trade at Celebration, while others will be available online, exclusively for Celebration ticket-holders. The first pin to be made available was the X-Wing Luke Skywalker pin, which was ingeniously given to attendees of this year's SDCC who had also already purchased Celebration Anaheim badges in the past or who purchased them right there at the Lucasfilm Pavilion's Star Wars Celebration Anaheim ticketing booth at Comic Con International, just last month in San Diego.

Next up will be the first in a series of four "Road to Celebration" pin sets, made available online, the first of which is the "Early Bird" set – a special selection of pins only available to Celebration ticket holders online, starting tomorrow, Friday 8/15/2014. The four characters ANH Luke Skywalker, ANH Princess Leia, and C-3PO & R2-D2 are the ones from Kenner's legendary Early Bird Kit that started it all for collectors in 1978. These will be released in limited quantities to each holder via an email that will be sent between now and the online sale, which will contain a link to the sale and unique login information. Limits will be enforced, and duplicate orders will be cancelled, with the possibility of getting banned from future Road to Celebration online pin sales if abusive tampering is detected in any attempt to over-order these sets.

The following three "Road to Celebration" sets will be released throughout the months leading into Celebration Anaheim. The Road to Celebration will yield ten pins to collect and trade (Four in the first set, two more in each of three subsequent sets, which will also each feature a tee shirt. That will make eleven pins to collect before Celebration even begins next April!

More Star Wars Celebration pins and more ways to collect them will be revealed as the show approaches, along with details on all the pins already revealed on the Star Wars Celebration site. Some will be available for purchase directly from the Celebration Store, other pins will be available exclusively at special events, and even a few more available for trade with select members of the Celebration crew.

If you've already purchased tickets for Star Wars Celebration, be on the lookout now for your email containing your Road to Celebration pin ordering info. And if you order tickets now, you can still jump in on the fun. Check out the pins already revealed at www.starwarscelebration.com .
August 13, 2014

A New Chance to Win Special Access VIP Tickets to NYCC 2014
With New York Comic Con weekend tickets all gone at retailers and online, and the convention coming up fast this October, there's now a new chance to win Special Access VIP tickets for the show. Just follow New York Super Week on Facebook, Twitter, Google+, and/or Instagram to be entered into a drawing for a pair of tickets. The contest starts Monday, August 11, 2014 at 12:00 PM EDT and ends August 29, 2014 at 12:00 PM EDT. Click through for the official rules.
August 11, 2014

Star Wars Rebels Short Film, "The Machine in the Ghost" Online Now

The Official Star Wars site, www.starwars.com, has updated with a new Rebels short film, "The Machine in the Ghost". The special short depicts TIE fighters in pursuit of The Ghost, with Hera and Kanan struggling to lose them, with the rather cranky assistance of astromech, Chopper.

Give it a look for a peek at Rebels' almost-Original Trilogy-era universe that we'll all get to enjoy once the series begins this fall on Disney XD.